Best Mural Spots in Dallas that are Totally Insta-worthy
So, you're in the Dallas area and you want some hot spots to take shots or do some film production that will impress your followers on Instagram and other social media.
We've got some great backdrops and murals for you to check out, so sit back and start making plans to get out and start shooting!
Colorful Cactus Wall
2702 Main Street, Dallas, TX 75226
The next wonderful wall art to check out is the Colorful Cactus Wall. This wall mural really pops with candy pinks, blues, and yellows. This wall looks great on its own, but might be a little too busy for portrait work. Either way, it's worth a look and is sure to be a hit on social media. This wall is located behind Pecan Lodge in Deep Ellum.
[ photo cred ]
Le Soleil
2606 Swiss Ave., Dallas, TX 75204
Next up is the stunning Le Soleil, or Mural of the Sun, which is one of the most popular murals in Deep Ellum for its warm tones and unique pattern. This backdrop is ideal for a photo shoot with a model or all by itself. If you're shooting with a model, aim for clothes that are blue to complement the warm oranges and yellows.
[ photo cred ]
Viva Deep Ellum Wall
210 N. Crowdus St, Dallas, TX 75226
If you're looking for some bright colors and playful artwork to spice up your Instagram feed, look no further than our next wall, which is Viva Deep Ellum Wall. This mural has a Mexican flair to it and is a shout out to Mariachi music. Painted in vibrant reds, yellows, blues, and orange, this mural is as fun as it is colorful. You can find this near the Renos Chop Shop in Deep Ellum!
[ photo cred ]
Cactex Wall
718 W. Davis St., Dallas TX 75208
Had enough of the bright pastel colors? Looking for something a little more black and white? Well, we've got the perfect mural for you. It's the Cactex Wall located in Oak Cliff behind the mini-Fab. This wall features intricate black and white artwork with a south of the border flair. Definitely one to wow your followers!
[ photo cred ]
American Flag Wall
2730 Commerce St. Dallas, TX 75226
Up next, perfect for Independence Day or any time you're feeling patriotic, it's the American Flag wall located at St. Pete's Dancing Marlin. If you're in the Deep Ellum area, you don't want to miss taking a snapshot with Old Glory behind you!
[ photo cred ]
Colorful Pentagon/Diamonds Mural
3699 McKinney Ave, Dallas TX 75204
Want more color in your life? Our next wall has that and more. It's the Graphic Colorful Pentagons/Diamonds mural, which was painted by artist Ricardo Paniagua. This stunning mural uses different shades of color to give the cubes/diamonds a 3D effect that you have to see in person to appreciate. It's bright, abstract, yet simple, and would be a great backdrop for a model with an equally colorful outfit. This mural can be found behind LOFT in West Village.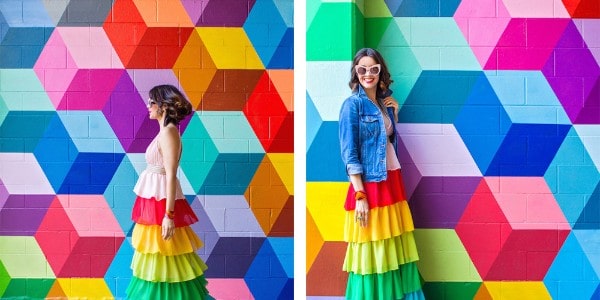 [ photo cred ]
Think Ellum Wall
2826 Main St., Dallas, TX 75226
Last, but not least, if you're in Deep Ellum, then you must check out the Think Ellum mural with its bright blues, yellows and purples, and the intricate artwork, it's a visual feast that would look great with a model or just by itself.
[ photo cred ]
A Space to be Yourself Wall
1619 N Hall St., Dallas, TX 75204
If you're looking for that perfect spot for a model shoot, then check out the "A Space to Be Yourself" mural, which is perfect with its bright, organic artwork and text, and with a space that invites people to pose. While the colors of this mural are certainly bright, the cool tones suggests a place to relax and just be yourself. Find this gem at Smart City Apartment Locating Headquarters.
[ photo cred ]
These are just a few of the many wonderful murals you can find in Dallas. It seems like just when you've seen them all, there's another one that is waiting for your camera.